Miss Boxer and Mrs Stafford
Term 2
Heroes and Villains
This Term we are looking at heroes and villains. We are asking ourselves What makes a hero or villain? The children have discussed this question and have come up with lots of ideas and further questions they would like to explore throughout the term. We will be kicking off the term by looking at Guy Fawkes and working out whether he was a hero or a villain. 
Thank you for your fantastic home challenge work there are some great examples that you can have a look at in the classroom. 
Pizza Express Trip
We had a fantastic day today at Pizza Express, learning about how to make a pizza by having a go at shaping the dough, adding tomato sauce (or Pasata!) and adding Mozarella cheese. 
We then watched as the Pizza's were placed in the oven to cook! 
The best bit (well for Miss Boxer and Mrs Stafford anyway!) was when we were back in school and got to eat what we had made - it was yummy!  
Take a look at the photographs of us having a great time...
Favourite Food
A huge thank you to all the children and their grownups who sent in their photos of their favourite food. They are currently on display outside our classroom (above the pegs). The next time you're in school,come and have a look at the wide variety of foods. If you've not yet sent in your photo/picture, there is still a little bit more time left. 
English
We have started our exciting Year 1 writing journey looking at the classic picture book 'The Very Hungry Caterpillar' by Eric Carle. We have used this text to help us to remember the days of the week and begin to learn to spell these. we have enjoyed memorising the different foods that the caterpillar ate each day.
We have also been learning about the countries of the UK and their capital cities. To coincide with our topic, we have also tasted some traditional foods from each country.
We had great fun tasting and came up with some fantastic adjectives to describe what we could taste, smell, feel and see.
Maths 
The children have  had a great start back, and have been really busy in maths. In Week 1 we read Eric Carl's  'The Very Hungry Caterpillar' in which the children had to order correctly the days of the week; The children also did some counting and addition. This week we have been focusing on number bonds to 10 (perhaps you could try this at home). We have been using 'Maths of the Day' activities, counters and 10 frames to do lots of practical activities.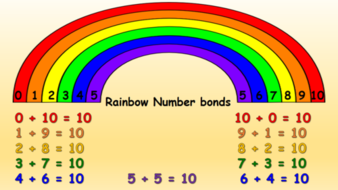 Science
In Science this term we are learning about 'animals including humans' and will be looking at different animal groups (mammals, reptiles etc), parts of the human body and how to stay fit and healthy.
Watch this space for more information and photos...
PE
This term our PE is Netball and Tennis. Our PE days this term are Monday and Friday - please make sure you have your PE kit in school on these days.
We are very excited that our Tennis lessons are being taught by a qualified tennis coach from Appeti Tennis - we look forward to learning some great new skills.
In Netball we are learning all of the skills required to play a successful game including travelling, passing and shooting, as well as teamwork.